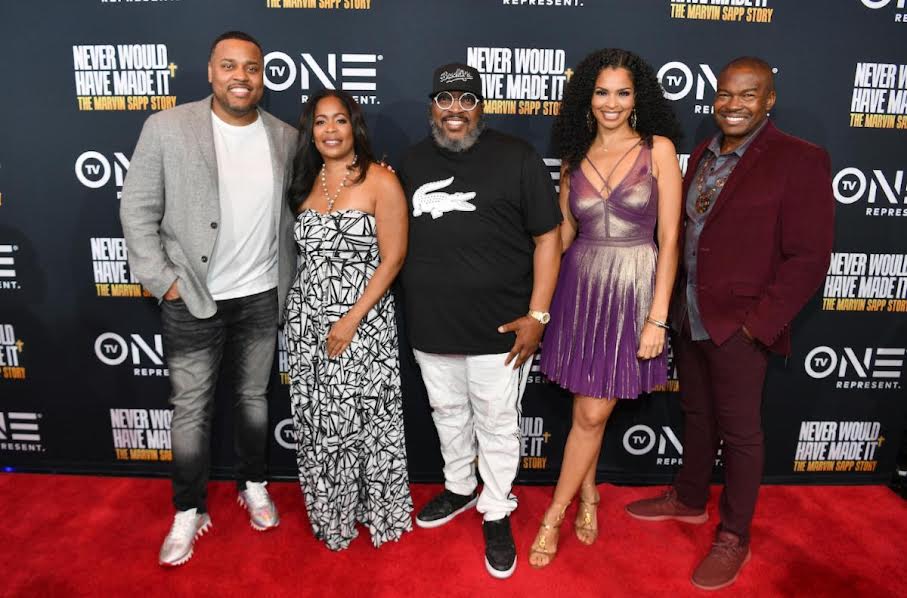 WATCH THE ORIGINAL TV ONE MOVIE "NEVER WOULD HAVE MADE IT: THE MARVIN SAPP STORY" THIS SUNDAY AT 9/8C ON TV ONE
MARVIN SAPP RELEASES 2022 ORIGINAL SOUNDTRACK SINGLE
AVAILABLE NOW WHEREVER MUSIC IS SOLD & STREAMED
SAPP ALSO RECEIVES THE "BILLIONAIRE" AWARD HONOR FROM
PANDORA MARKING OVER ONE BILLION STREAMS ON THE PLATFORM
TV ONE HOSTS STAR-STUDDED
"NEVER WOULD HAVE MADE IT: THE MARVIN SAPP STORY"
WORLD PREMIERE SCREENING FEATURING MARVIN SAPP,
CHAZ LAMAR SHEPHERD, AMBRE ANDERSON,
RUSS PARR AND PHIL THORNTON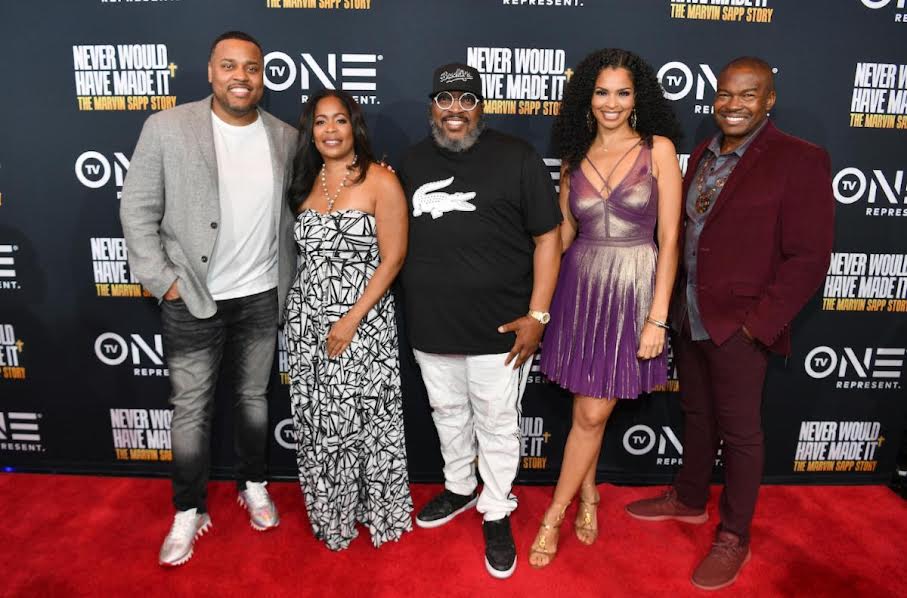 Executive Producer Phil Thornton, TV One President Michelle Rice, Marvin Sapp, Ambre Anderson and Chaz Lamar Shepherd attend the Atlanta premiere of "Never Would Have Made It: The Marvin Sapp Story" at Regal Atlantic Station.
(SILVER SPRING, Md.) – August 20, 2022 – This week, TV One hosted the official red-carpet premiere for its highly anticipated and long-awaited biopic "Never Would Have Made It: The Marvin Sapp Story" based on the life of gospel legend Marvin Sapp. The film premieres Sunday, August 21 at 9 P.M. ET/8C only on TV One. Held at the Regal Atlantic Station in Atlanta, the event was packed with star power including the icon himself, Marvin Sapp alongside film stars Chaz Lamar Shepherd, Ambre Anderson, Stormy Merriweather, Zoe Greene and Jayden Griffin. Other notable attendees included director, Russ Parr, Executive Producers Phil Thornton and Keith Neal and President of TV One Michelle Rice.
In the days leading up to the premiere of the film, Sapp has much to celebrate. He was surprised by the Pandora team with the Billionaire Award celebrating more than one billion streams on the platform on Thursday at the National Museum of African American Music. There is also a re-release of his classic hit "Never Would Have Made It" out today. The impassioned unplugged version of the song continues to bring people to their feet 16 years after it was first released. The song is available for purchase and on all streaming platforms now.
Buzz has reached a fever pitch since the world premiere of the trailer exclusively within the Stellar Awards last month. Fans and industry insiders alike have been waiting to see the retelling of this legendary journey told through the lens of the man who lived it. From an intimate screening in his home state of Michigan to a prestigious showing during the Martha's Vineyard African American Film Festival and a special premiere at his home church The Chosen Vessel Cathedral in Fort Worth, Texas, "Never Would Have Made It" has resonated with audiences through its powerful storytelling and dynamic cast. In Nashville this week, the film will wrap up its movie premiere run with a special screening at the National Museum of African American Music in Nashville.
Marvin Sapp's biopic chronicles the prominent gospel music artist and preacher's Michigan upbringing, battle against teenage alcohol abuse, love for his wife MaLinda Prince, rise in the music industry and growth in his faith. Sapp came into prominence more than 30 years ago as a member of the iconic gospel group Commissioned and is widely known for his award-winning, chart-topping crossover hit "Never Would Have Made It." Currently, he is an author, radio show host and senior pastor of The Chosen Vessel Cathedral in Fort Worth, Texas and pastor emeritus of Lighthouse Full Life Center in Grand Rapids, Michigan – the church he founded with his late wife, MaLinda Prince Sapp.
The film is directed by Russ Parr and produced for TV One by Swirl Films, with Eric F. Tomosunas, James Seppelfrick and Keith Neal serving as Executive Producers. Additionally, Marvin Sapp and Phil Thornton are Executive Producers. For TV One, Jason Ryan is the Executive Producer in Charge of Production, Donyell Kennedy-McCullough is Senior Director of Talent & Casting and Susan Henry is Senior Director of Original Programming and Production.
For more information about TV One's upcoming programming, including original movies, visit the network's companion website at http://www.tvone.tv. TV One viewers can also join the conversation by connecting via social media on Twitter, Instagram and Facebook.

LISTEN TO "NEVER WOULD HAVE MADE IT"
2022 ORIGINAL SOUNDTRACK VERSION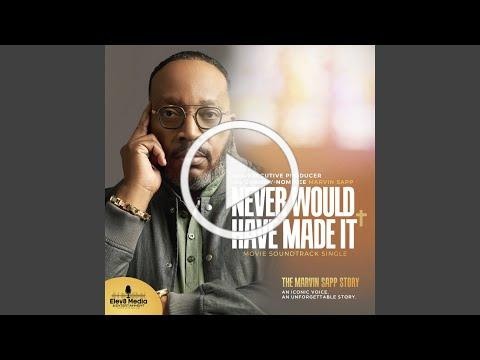 SAPP RECEIVES THE "BILLIONAIRE" AWARD HONOR FROM
PANDORA MARKING OVER ONE BILLION STREAMS ON THE PLATFORM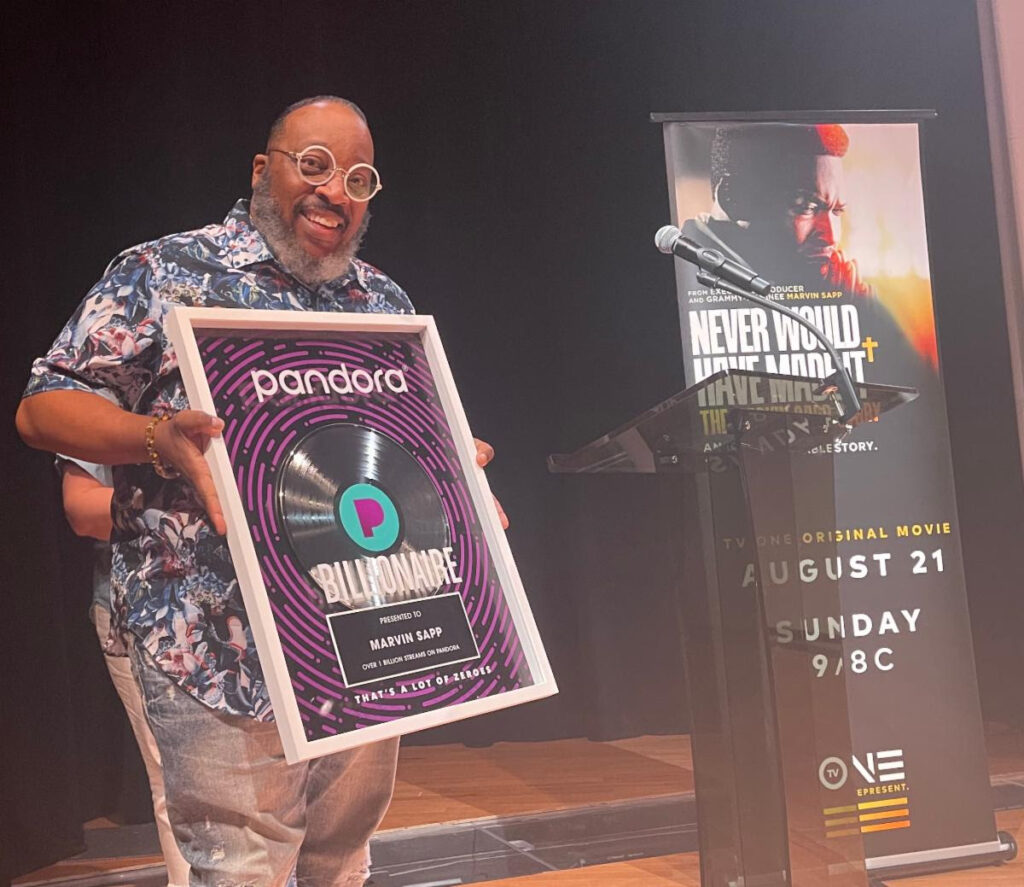 RED CARPET IMAGES FROM THE "NEVER WOULD HAVE MADE IT: THE MARVIN SAPP STORY"ATLANTA PREMIERE
ABOUT TV ONE NETWORKS
TV One Networks is the hub of black culture and entertainment with a broad offering of original programming and classic series, serving both diverse audiences for TV One and CLEO TV. Launched in January 2004, TV One currently serves 43 million households and CLEO TV, launched in January 2019, is the sister network with a 34.9 million household reach. Each network has a unique audience that serves viewers with fan favorites from TV One such as Unsung, Uncensored, Fatal Attraction, ATL Homicide, Life therapy, Don't Waste Your Pretty and Urban One Honors. While CLEO TV, a lifestyle and entertainment network targeting Millennial and Gen X women of color, delivers content that uplifts and inspires today's modern-day woman. Viewers of CLEO TV can expect award-winning content in both original and acquired series including Culture Kitchen, Living by Design, New Soul Kitchen, Just Eats with Chef JJ, Tia Mowry's Quick Fix and All Things Adrienne House to Home. Both networks are solely owned by Urban One, Inc., formerly known as Radio One, Inc. [NASDAQ: UONE and UONEK, www.urban1.com], the largest African-American owned and operated multi-media company.
ABOUT SWIRL FILMS
Swirl Films is America's "number one urban film production company," a full-service film & television production company with over 60 original productions in the past six years, focusing on urban content and programming, independent features and multi-camera productions. Swirl Films is a major content provider for TV One including the original productions: Love Under New Management: The Miki Howard Story (2016), which was TV One's first ever biopic, starring LisaRaye McCoy, Vanessa Bell Calloway, Darius McCrary, Indirah Khan and Teyonah Parris as Howard. According to the network, the film broke record ratings, undeniably becoming the top original film in the network's history drawing in 2 million views, resulting in the networks highest ratings week ever. Quickly surpassing those numbers is TV One's #1 original premiere of all time, When Love Kills: The Falicia Blakely Story (2017), starring Lance Gross, Niatia Kirkland and Tami Roman, directed by actress Tasha Smith. Swirl Films previous production credits for TV One include Born Again Virgin, starring Danielle Nicolet, Meagan Holder and Eva Marcille; Here We Go Again, starring LeToya Luckett, Wendy Raquel Robinson and Kyndall Ferguson; Russ Parr's award-winning film, The Under shepherd, Hear No Evil and 35 & Ticking (Kevin Hart).