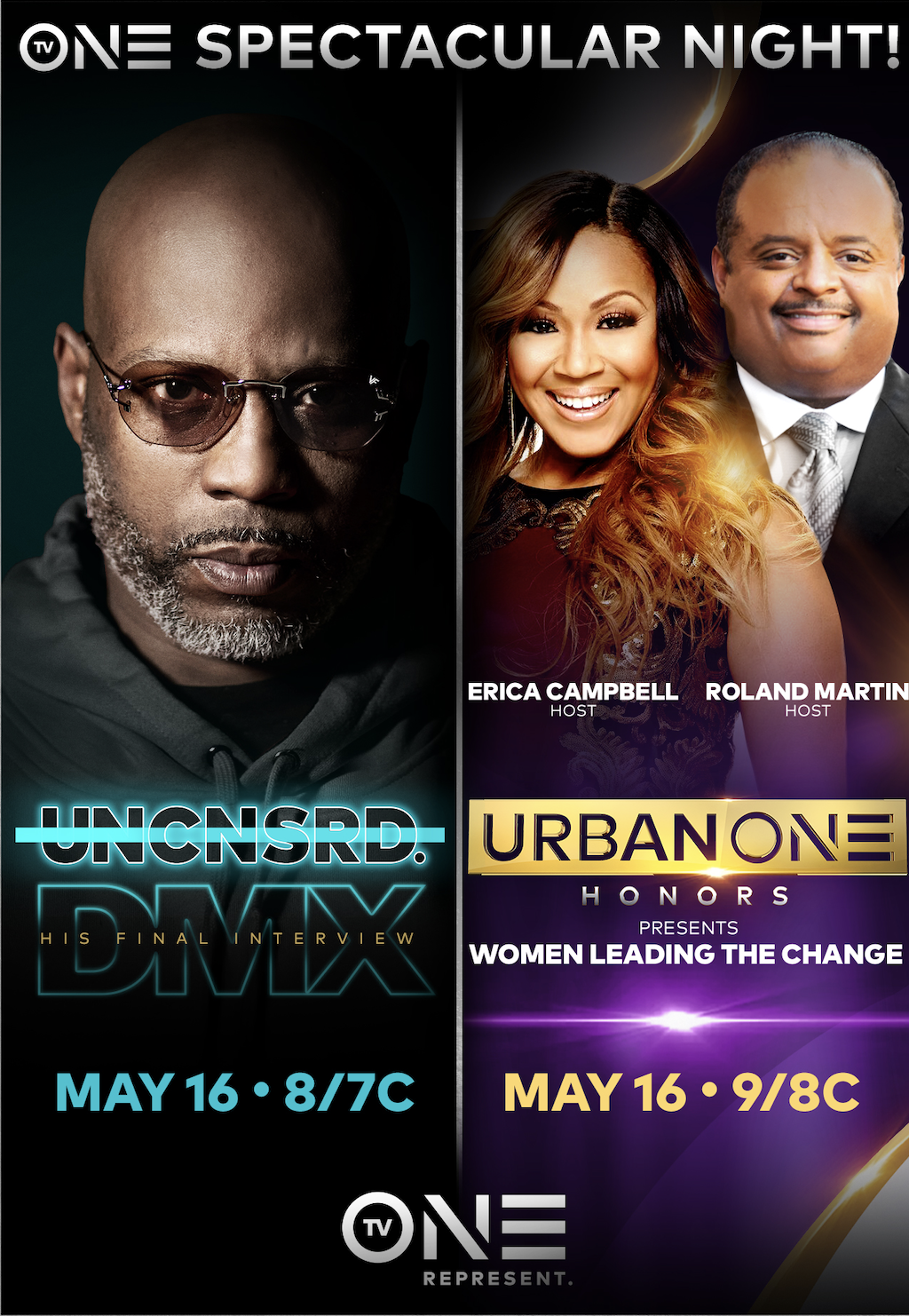 JOIN TV ONE FOR A One Spectacular Night UNCENSORED: DMX AND THE THIRD ANNUAL URBAN ONE HONORS THIS SUNDAY, MAY 16 AT 8 P.M. ET/7C
PLUS VIEWERS CAN CATCH A TRIBUTE EPISODE CELEBRATING THE LEGACY OF THE LATE RAPPER IN THE UNCENSORED SPECIAL: DMX THE ICON THIS UPCOMING MONDAY, MAY 17TH AT 10/9C
(SILVER SPRING, MD) – May 14, 2021 – TV One is gearing up for its most epic night of programming slated for this Sunday night. The network will kickoff a special episode of its hit autobiographical series UNCENSOREDfeaturing the late rapper DMX in his final interviewon Sunday, May 16 at 8 p.m. ET/7C,followed by the annual URBAN ONE HONORS hosted by Erica Campbell and Roland Martin at 9 p.m. ET/8C. Following the network's spectacular night of programming, UNCENSORED SPECIAL: DMX THE ICON, will air on Monday, May 17th at 10/9c on TV One.
UNCENSORED: DMX | Sunday, May 16 at 8 P.M. ET/7C
Raised in Yonkers, New York, by his mother, DMX was considered a "problem" as early as kindergarten. A tumultuous relationship with his mother caused him to bounce between boys' homes and eventually detention centers. However, battle rapping solidified his love for the art, and his first break was a feature in The Source Magazine's Unsigned Hype column in 1991. In 1992, he was signed to Ruffhouse Records. His debut album, It's Dark, and Hell is Hot, didn't arrive until 1998, but it peaked at No.1 on the Billboard 200. He quickly followed up with his second album, Flesh of My Flesh, Blood of My Blood, making him the first living artist to release two chart-topping albums in the same year. He eventually released six more studio albums, with three more reaching No. 1 and one reaching No. 2. His success in music primed him for acting. He starred in Hype Williams' hip hop classic Belly and followed that success with roles in Romeo Must Die and Exit Wounds.
The hit autobiographical series UNCENSORED explores the lives of popular personalities as they provide first-hand accounts of their success and the obstacles they faced throughout their careers. Sunday night's episode featuring DMX will highlight the rapper in his own words as he discusses his more than 30-year career and legacy in hip hop.
UNCENSORED is produced for TV One by Eric Tomosunas, Keith Neal, James Seppelfrick and Paul Hall (Executive Producers), Jay Allen (Co-Executive Producer), and Nikki Byles (Producer) of Swirl Films. For TV One, Jason Ryan is Executive in Charge of Production; Donyell Kennedy-McCullough is Senior Director of Talent & Casting; and Robyn Greene Arrington is Vice President of Original Programming and Production.
URBAN ONE HONORS | Sunday, May 16 at 8 P.M. ET/7C
URBAN ONE HONORS will spotlight the exemplary accomplishments of African Americans women. The theme of this year's awards show is Women Leading the Change will pay homage to dynamic ladies whose extraordinary contributions in business, media, health, and politics have had a profound impact across the country and the world. Honorees that will be celebrated and acknowledged include
Voting Rights Champion: Stacey Abrams
Investigative Journalism Crusader: Nikole Hannah-Jones
Health Equality Advocate: Dr. Ala Stanford
Business Alchemist: Rosalind "Roz" Brewer"
Family Needs Ambassador: Kim Ford
Reparations Ambassador: Robin Rue Simmons
The inspiring night of excellence will also feature a salute to some of our cities most prolific mayors and the sororities from the historically Black Greek Letter Organizations. The night will feature a celebration of several prominent women leading our nation's cities and the work they are doing to inspire impactful change within the Black communities that they serve. The mayors include Charlotte Mayor Vi Lyles, Washington, D.C. Mayor Muriel Bowser, Chicago Mayor Lori Lightfoot, and Atlanta Mayor Keisha Lance Bottoms. Additionally, "Sisters in Sororities" will feature the work of the four sororities of the Divine Nine led by President Glenda Baskin Glover (Alpha Kappa Alpha), President Beverly E. Smith (Delta Sigma Theta), President Valerie Hollingsworth Baker (Zeta Phi Beta) and President Rasheeda S. Liberty (Sigma Gamma Rho) and showcases the importance of sisterhood. It will also highlight how they are working together to support African American college students who are looking for community as they pursue their education. The annual tribute show will also feature chart topping music and iconic performances by Jazmine Sullivan, Da Brat, Le'Andria Johnson and Avery Sunshine.
For the first time ever, you can catch the URBAN ONE HONORS on TV One's sister network CLEO-TV.
URBAN ONE HONORS is executive produced for TV One by Eric Tomosunas, Robert Boyd of Swirl Films, and Jazz Smollett. Susan Henry serves as Executive Producer in Charge of Production for TV One. Kashon Powell, Vice President of Programming for Radio One, and Donyell Kennedy-McCullough is Senior Director of Talent and Casting. Robyn Greene Arrington is Vice President of Original Programming and Production.
UNCENSORED SPECIAL: DMX THE ICON | Sunday, May 16 at 8 P.M. ET/7C
In a special tribute, friends and family of DMX reflect on his legacy. With chart topping music and iconic performances across film and television, DMX made a lasting impact on the lives of everyone who experienced his genius.
For more information, visit www.UrbanOneHonors.com and visit TV One's Youtube Channel to check out exclusive behind-the-scenes content for Urban One Honors and UNCENSORED. TV One viewers can also join the conversation by connecting via social media on Twitter, Instagram , and Facebook (@tvonetv) using the hashtag #URBANONEHONORS. Be sure to follow UNCENSORED on Facebook and Instagram (@UncensoredTVOne) using the hashtag #UncensoredTVOne.